Small Holders Downsized From Existing Vacuum Pads To Save Space
Multi-stage bellows-type vacuum pad external appearance
Uses no copper-based metals, includes measures against low-concentration ozone
Pad material: Nitrile rubber, silicone rubber, urethane rubber, fluorine rubber, conductive NBR (low resistance type), Food Sanitation Law-compliant NBR, HNBR, EPDM
Pad size: Ø10 (diameter 10 mm), Ø20 (diameter 20 mm), Ø30 (diameter 30 mm), Ø40 (diameter 40 mm), Ø50 (diameter 50 mm)
Vacuum Outlet, Upper
Vacuum Outlet, Horizontal
Direct Attachment
Type
Standard
Small
Standard
Small
Standard
Small
Symbol
VPA
VPMA
VPB
VPMB
-
-
Holder type (fixed type)
Vacuum Outlet, Upper
Vacuum Outlet, Horizontal
Direct Attachment
Type
Standard
Small
Standard
Small
Standard
Symbol
VPC
VPMC
VPD
VPMD
VPF
Holder type (spring type)
| | |
| --- | --- |
| Single-action Coupling (mm) | Ø3, Ø4, Ø6 |
| Barbed Coupling (Applicable Tube Outer Diameter × Inner Diameter)(mm) | Ø3 × Ø2, Ø4 × Ø2.5, Ø6 × Ø4 |
Applicable size (coupling size)
Features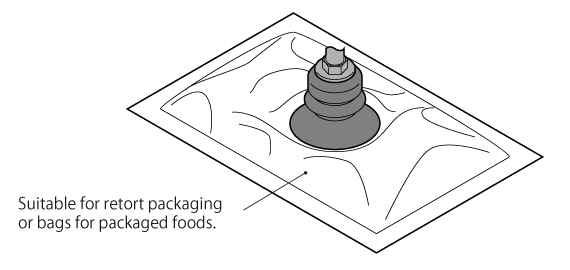 Ideal for transporting bags containing retort packs, food products, etc.
Small holders downsized from existing vacuum pad holders (A, B, C, D types) to save space.
Also compatible with the optional fall prevention valve and directly attachable-type pad filters.
The pad can be changed without detaching the holder from the equipment.
Pad holders compatible with applications requiring "non-copper-based metal use" and "low concentration ozone measures" are available.
No copper-based metals are used in the metal component materials, and HNBR is used for the rubber sealing material.
*Pad material: Note that nitrile, conductive rubber (low resistance type) and Food Sanitation Law-compliant NBR are not suitable for low-concentration ozone measures.