Product Overview of Ball Screw
1. The product is an Economy series C7 rolled Ball Screw without pre-pressure suitable for a feeding mechanism requiring multi-point positioning.
2. Ball Screw Standard nuts are adopted to meet the requirement of space saving.
3. The shaft end of screw is processed in accordance with standard specifications, so it can be used directly with the support unit without reprocessing. If the shaft end requires alteration, which should be specified according to the catalog.
4. When used in combination with MISUMI's Economy series support unit, it has a better effect.
Dimensional Drawing of Ball Screw
Product Drawings of Ball Screw (Unit: mm)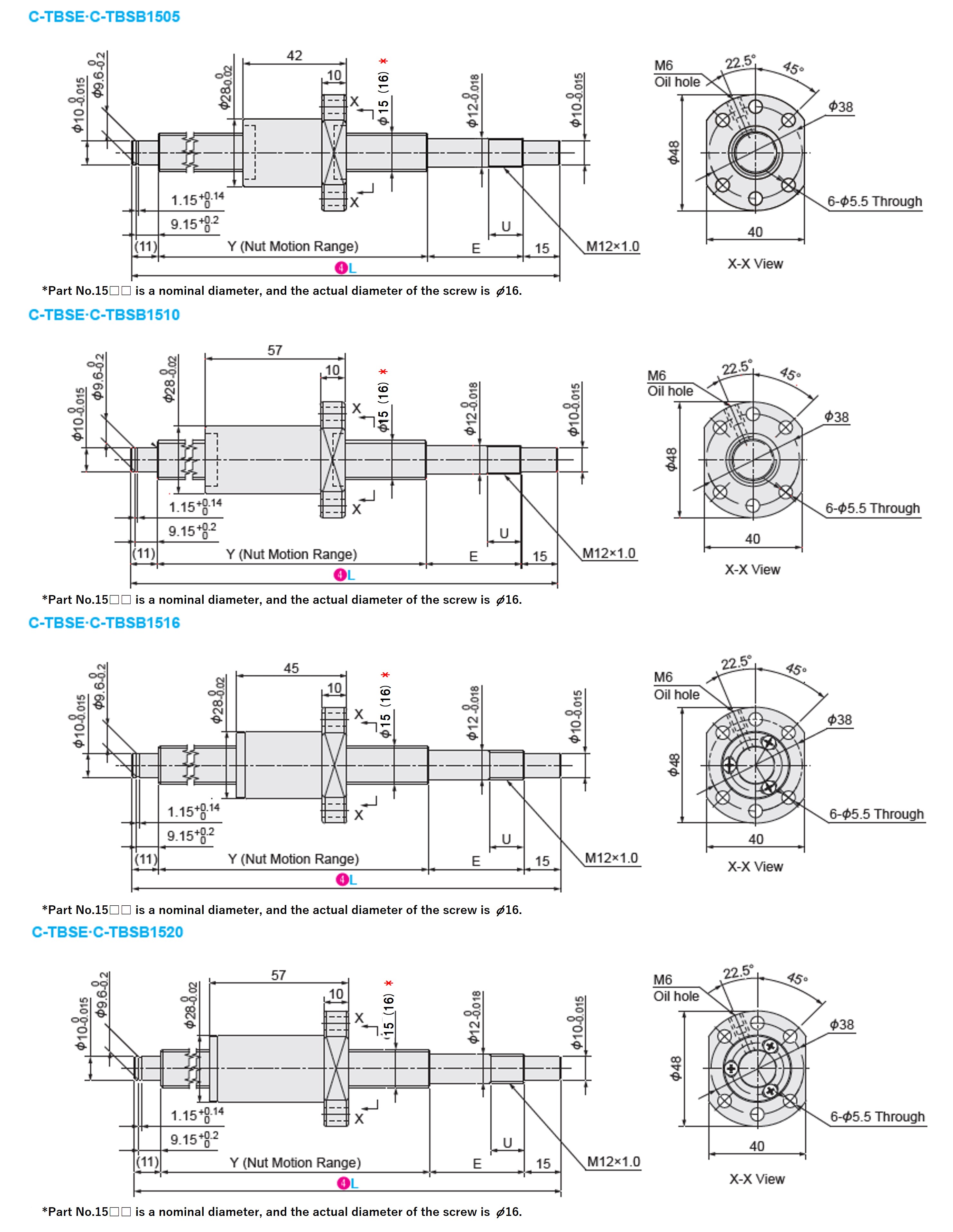 Specification Table of Ball Screw
■EK Shaft End
Part No
L
Shaft Overall Length
(1mm Increments)
Fixed Side Shaft end dimention
Y
Number of Laps
Basic Rated Load
Axial
Clearance
Twisting
Direction
Support Units (separately sold)
Type
Screw Shaft Norminal (Dia.)
Lead
E
U
C(Dynamic)
kN
C(Static)
kN
Shape
Fixed Side
Model
Supprt Side
Model
C-TBSE
15 (*16)
05
150~1200
36
11
L-62
3 laps
3.6
7.4
0.1 or Less
Right
Square
C-TEK12
C-TEF12
Round
C-TFK12
C-TFF12
Low Profile
E-TLK12
E-TLF12
10
Square
C-TEK12
C-TEF12
Round
C-TFK12
C-TFF12
Low Profile
E-TLK12
E-TLF12
16
1.8 laps
3.0
7.1
Square
C-TEK12
C-TEF12
Round
C-TFK12
C-TFF12
Low Profile
E-TLK12
E-TLF12
20
Square
C-TEK12
C-TEF12
Round
C-TFK12
C-TFF12
Low Profile
E-TLK12
E-TLF12
*Actual Shaft Dia is 16
The Y Dimension must be larger than the total length of the Screw Nut
■BK Shaft End
Part No
L
Shaft Overall Length
(1mm Increments)
Fixed Side Shaft end dimention
Y
Number of Laps
Basic Rated Load
Axial
Clearance
Twisting
Direction
Support Units (separately sold)
Type
Screw Shaft Norminal (Dia.)
Lead
E
U
C(Dynamic)
kN
C(Static)
kN
Shape
Fixed Side
Model
Supprt Side
Model
C-TBSB
15 (*16)
05
150~1200
39
14
L-65
3 laps
3.6
7.4
0.1 or Less
Right
Square
(Narrow Pitch)
C-TBK12
C-TBF12
10
16
1.8 laps
3.0
7.1
20
*Actual Shaft Dia is 16
The Y Dimension must be larger than the total length of the Screw Nut
kgf=N×0.101972
Related Products of Ball Screw
C-TBSE
C-TEK12
C-TEF12
C-TFK12
C-TFF12
C-TBSB
C-TBK12
C-TBF12
Precautions of Ball Screw
■ Selection and Precautions for Use of Ball Screw
● Rotating the nut by hand may not feel smooth, but does not affect the positioning precision, so this product is suitable for multi-point positioning feeding mechanism. Please feel free to use.
● If the operation requires low runout (e.g. machining equipment), please use MISUMI standard products.
In operation, if there is too much noise or sharp and harsh sound, please make sure that the installation accuracy of the screw and the specifications of peripheral components such as motors and couplings are appropriate.
● Lithium soap grease. SHC32 (red) has been applied.
Do not let the nut exceed the movement range of the Ball Screw nut, or screw out of the screw shaft, otherwise the ball will fall off and the ball cycling parts will be damaged.
● Ball Screws and nuts placed with an inclination may fall due to weight. Please be careful.
● This product is a machined type, so there will be knife patterns and color difference in its appearance. Small scratches or color changes without affecting the use and main function are of a normal phenomenon. Please feel free to use.

■ Precautions of the Ball Screw and peripheral parts design and assembly
The Ball Screw is a component that only bears axial load. If it is subjected to radial load or moment load, poor sliding, vibration or abnormal noise may occur, shortening its service life.
The reason that the Ball Screw bears radial load and moment load is the axis deviation and parallelism error of the surrounding parts. Therefore, it is necessary to correctly design and assemble the peripheral parts of the Ball Screw to prevent errors.
● Axis deviation of Ball Screw and support unit (Fig. 1)
- Axis deviation is the deviation of the Ball Screw fixed by the fixed side support unit and the bearing of the supporting side support unit.
- The allowable value of the axis deviation is 20μ or less (reference value)
●Parallelism between Ball Screw and linear guide (Figure 2)
- Parallelism error refers to the inclination of the Ball Screw in the up-down or left-right direction with respect to the reference of the linear guide.
- The allowable value of inclination is below 1/2000 (Figure 3)
●Precautions of assembly
If you notice abnormal noises during the operation of the Ball Screw or jamming during movement after assembly, please loosen the connections of the parts before proceeding. Adjust and reassemble after moving smoothly.
- Error in the left and right direction of the support unit (Fig. 1)
- Parallel error of linear guide and Ball Screw (Fig. 2)
- Fixing of workbench and nut bracket
- Fixing of ball screw nut and nut bracket
Example Use of Ball Screw
Automatic feeder (the workpiece feeds by the moving and positioning of the slider driven by the ball screw via the stepping motor)


Specification Table