Product Overview
  Linear guide, also known as slide rail or linear slide, which is used for linear reciprocating motion, has higher rated load and linear motion precision than linear bearings under the same moving component volume. Also, it bears a certain torque load, achieving high-precision linear motion under high load.
  Used to support and guide moving parts, linear guides make reciprocating linear motion in a specified direction. It is mainly used in mechanical structures with high precision requirements. Rolling steel balls are used instead of intermediate medium between the moving element and the fixed element of the linear guide rail.

Product Feature
Feature 1: New construction, greatly reducing noise and improving smoothness.
Feature 2: The slide rail and the slider are in contact with each other through the rolling ball, so the shaking is small, and it is suitable for equipment with precision requirements.
Feature 3: Due to a point-to-surface contact, the frictional resistance is small, and it can perform subtle movements to achieve high precision positioning of the device.
Feature 4: It has a large allowable load because the force on the rotating surface is dispersed due to the rolling groove of the ball.
Feature 5: It is suitable for high-speed motion because it is not easy to produce friction heat when operating and not easily deformed by heat.

Dimensional Drawing

Specifications Overview
Stainless steel
58HRC~
Bearing steel
E-GMLG

Usage Method
■ About use
① MISUMI's linear guide is installed with a retainer. Although the ball is not easy to fall off when the slide block is removed, the ball may fall off if the slider is removed from the rail at high speed, or tilted into the slide rail. Please disassemble the slider with care.
② Be sure to avoid colliding the ball back groove cover, otherwise it will affect the ball cycling, resulting in poor sliding.
③ Economy series Miniature linear guide rail adopts bearing steel. If you have anti-rust requirements, please choose the Low Temp. Black Chrome Plating Surface Treatment or Stainless Steel SUS440C products.

■ About maintenance (supply of grease)
① Grease forms an oil film on the surface of the linear guide ball and rail surface to effectively reduce friction and prevent sintering.
Decrease and aging of grease will greatly affect the life of the linear guide, so please add grease at the right time according to the service conditions.
MISUMI's linear guides are sealed with the greases listed below at the time of shipment, so they can be used directly.
Miniature Linear Guide: Lithium Soap-based Grease (MULTEMP Grease PS2)
Medium· and Heavy Duty Linear Guide: Lithium Soap-based Grease (Showa Shell Petroleum Albania Grease S2)
② Recommended Grease Injection Interval:
  Usually every 6 months.
For longer moving distance, 3 months, or when the moving distance exceeds 1000km within the time limit, the 1000km shall prevail.
  *The above is the grease injection interval under the moving distance standard. Depending on the operating environment, the grease injection interval must be shortened appropriately when the grease is aging and dirty.
Precautions
For normal use, the installation of the linear guide needs to meet the following four points:
① Whether the shape of the mounting surface produces interference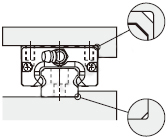 ② Keep the flatness of the workpiece mounting surface at about 5μ, otherwise the slider will be slightly deformed

③ Whether the error values of guide parallelism and fitting height are within the allowable installation values

④ Use the standard installation method


Example of Use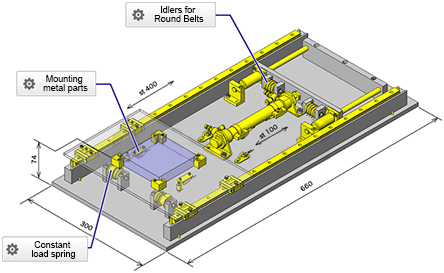 Mechanism Name: 4 times stroke slide
Feature 1: suitable for medium frequency driving and positioning.
Feature 2: transfer the light workpiece on the worktable according to 4 times the distance of the cylinder stroke.

Application Industries
| | | |
| --- | --- | --- |
| Medical | | Smart phone |
| | | |
| Robotics | | Electronic & Electrical Appliances |
| | | |
Related Products
| | | | | |
| --- | --- | --- | --- | --- |
| Miniature linear guide rail | | Medium Load linear guide | | Heavy Load linear guide |
| | | | | |
| Typical model: SSEBZ10-55 | | Typical model: SVR24-280 | | Typical model: SXR24-280 |

Specification Table
Please order after selecting part number and parameters according to the selection steps

to

.
Part Number (Type··W

R

)
-
L
E-GMLG9
-
35
Stainless steel
58HRC~
Standard slider type
E-GMLG
7, 9, 12, 15
■ L Dimension Parameters
E-GMLG
7
25~900
8
1.5
5
17
12
2.5
8
13.5
22.65
φ1.2
M2*2.5
1.5
7
4.8
4.2
2.3
2.4
15
9
35~900
10
2
5.5
20
15
2.5
10
18.9
29.60
φ1.4
M3*3
1.8
9
6.5
6
3.5
3.5
20
12
45~900
13
3
7.5
27
20
3.5
15
20.7
35.75
φ2
M3*3.5
2.5
12
8
6
4.5
3.5
25
15
70~900
16
4
8.5
32
25
3.5
20
26.7
43.60
M3
M3*4
3
15
10
6
4.5
3.5
40
■ Detailed dimension of L dimension specified type
Dimension L specified type cuts both ends of the rail equally. Refer to the table below for the number of mounting holes (M) of the rail at this time.
In addition, Dimension E's calculation formula is as follows

Economy series Miniature Linear Guide - Standard Guide Type -
H
8
10
13
16
Number of mounting holes
M
L
25~35
35~47
45~57
70~87
2
36~50
48~67
58~82
88~127
3
51~65
68~87
83~107
128~167
4
66~80
88~107
108~132
168~207
5
81~95
108~127
133~157
208~247
6
96~110
128~147
158~182
248~287
7
111~125
148~167
183~207
288~327
8
126~140
168~187
208~232
328~367
9
141~155
188~207
233~257
368~407
10
156~170
208~227
258~282
408~447
11
171~185
228~247
283~307
448~487
12
186~200
248~267
308~332
488~527
13
201~215
268~287
333~357
528~567
14
216~230
288~307
358~382
568~607
15
231~245
308~327
383~407
608~647
16
246~260
328~347
408~432
648~687
17
261~275
348~367
433~457
688~727
18
276~290
368~387
458~482
728~767
19
291~305
388~407
483~507
768~807
20
306~320
408~427
508~532
808~847
21
321~335
428~447
533~557
848~887
22
336~350
448~467
558~582
888~900
23
351~365
468~487
583~607
-
24
366~380
488~507
608~632
25
381~395
508~527
633~657
26
396~410
528~547
658~682
27
411~425
548~567
683~707
28
426~440
568~587
708~732
29
441~455
588~607
733~757
30
456~470
608~627
758~782
31
471~485
628~647
783~807
32
486~500
648~667
808~832
33
501~515
668~687
833~857
34
516~530
688~707
858~882
35
531~545
708~727
883~900
36
546~560
728~747
-
37
561~575
748~767
38
576~590
768~787
39
591~605
788~807
40
606~620
808~827
41
621~635
828~847
42
636~650
848~867
43
651~665
868~887
44
666~680
888~900
45
681~695
-
46
696~710
47
711~725
48
726~740
49
741~755
50
756~770
51
771~785
52
786~800
53
801~815
54
816~830
55
831~845
56
846~860
57
861~875
58
876~890
59
891~900
60
P
15
20
25
40