Product Overview
·This series products are Economy type spring plungers from MISUMI, which are stainless steel standard type with hexagonal coarse threads, manufactured in China, and can be widely used in low and medium precision equipment and tooling and fixtures.
·Ball plungers/spring plungers, also known as ball point set screws, ball screws, positioning balls, touch balls, steel ball tightening spring screws, etc., can be used for temporary positioning and index adjustment of workpieces, relying on the spring to push out the front ball through a fixed stroke.

Product Feature
·A wide variety of specifications is available to accommodate different sizes, lengths and loads.
·Made entirely of stainless steel, with no painting or coloring, they are suitable for more equipment with higher surface requirements.
·As there is no wrench slot on the tip, please use the ball plunger with an Allen wrench.
·The ball plunger has a simple structure: the front ball is pushed out through a fixed stroke by the internal spring and it can be released by pressing in the ball against the elastic force.
·Flexible installation: Suitable for linear motion and rotary motion mechanisms with positioning requirements, the plunger can be installed using general threads, which facilitates assembly and disassembly.
·Suitable for fixture indexing, positioning, stop limit and other occasions.
·The stroke can be fine-tuned by screwing-in depth of the screw.

Example of Use
Example of Use


Usage Method
When installed on a thin plate, the plunger can be tightened using a nut.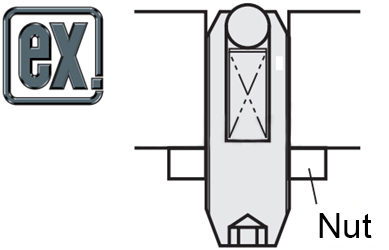 Precautions
·As there is no wrench slot on the tip, tighten with a hexagonal wrench through the hexagonal hole on the tail.
·The values of stroke (S), slot size (B) and load are for reference only and not guaranteed.
·No anti-loosening treatment.

Related products
| | | |
| --- | --- | --- |
| (Economy series) Stainless Steel Long Ball Plungers | (Economy series) Stainless Steel Short Ball Plungers | (Economy series) Black Zinc-Plated Ball Plungers |
| | | |